Beautify Your Lawn With Lawn Aeration Services
Reliable Lawn Aeration for Excellent Results
The professionals at Lawn Pride of Myrtle Beach and Murrells Inlet offer aeration services throughout Myrtle Beach and Murrells Inlet, SC if you have compacted soil. If you're having trouble growing thick and lush grass in your yard and are left with barren soil and weeds, it may be due to soil compaction. Soil compaction is when the pores in the soil collapse, preventing grass and other plants from getting the nutrients they need to thrive. When you choose us for your lawn care services, our knowledgeable and trained professionals will inspect the quality of your soil and recommend a service that will improve the thickness and lushness of your grass. Contact our team today to schedule your service.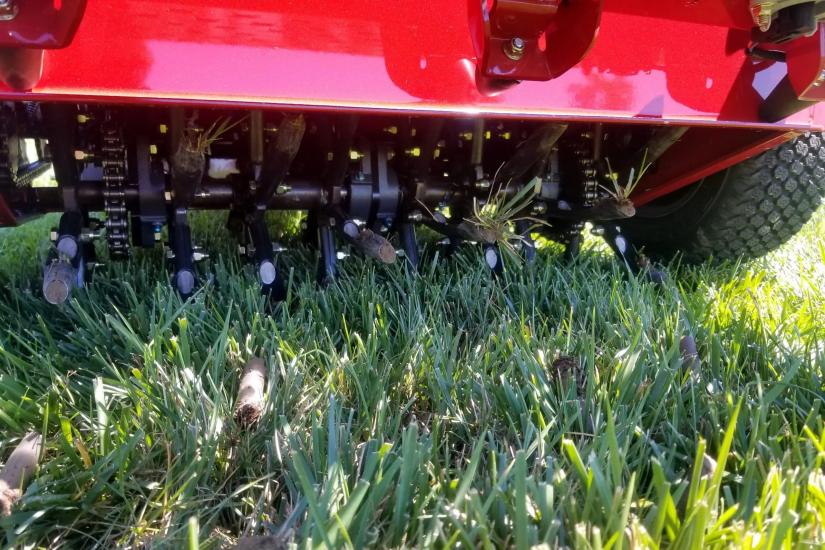 Learn More About Lawn Aeration
A wide variety of factors cause soil compaction. If you've recently had heavy machinery in your yard for excavation or renovations, you may find growing grass in that area difficult. Similarly, a high amount of clay in the soil can prevent you from growing thick healthy grass. When soil is compacted, it makes it difficult for plants to receive the nutrients they need to grow. Lawn aeration is the process in which we aim to reduce the density of your soil and allow essential nutrients to reach the roots of your grass more easily by puncturing holes in the topsoil. The process is simple but requires the proper equipment to reduce the amount of time the project takes and its effectiveness.

Understanding the Benefits of Lawn Aeration
When you meet with our lawn care experts, we'll review our aeration process, so you know what to expect. Aeration is a common lawn care service we provide, and we've seen extraordinary results. It's typically performed in the spring. If you haven't had any success growing grass on your property, our lawn aeration services may be right for you. Learn more about the numerous benefits our aeration services provide your yard:
Promotes Healthier and Stronger Grassroots
Allows Air and Water to Reach the Soil
Improves Fertilization
Breaks Up Compacted Soil and Clay
Reduces Mushroom Growth
Improves Drought Resistance
Encourages Grass Growth
Core Aeration Services
Compacted soil prevents grass and other plants from thriving by suffocating them. Core aeration is an effective and natural way to help break up compacted soil. Our team has access to high-quality core aeration equipment that removes four-inch dirt plugs throughout your lawn. Once the plugs are removed, water, oxygen, and other crucial nutrients can penetrate plant roots to improve their growth rate. Not only does it allow access to nutrients, but core aeration also helps to cultivate a healthy and thick root system by giving it room to grow.
Liquid Aeration Services
Liquid aeration is an effective alternative to the traditional core aeration method. At Lawn Pride of Myrtle Beach and Murrells Inlet, our landscaping professionals trust Soil Revive for our liquid aeration services. It's 100% organic and contains carbon and enzymes which penetrate up to 14 inches deep to improve soil tilth. When you choose liquid aeration, you won't need to worry about marking off sprinkler heads, valves, or fences. Instead, the treatment is distributed evenly throughout the entire lawn. Soil Revive also acts as a food source to help encourage plant growth and cultivate a healthy root system for grass and other flowers. Liquid aeration can be performed immediately after overseeding and creates a protective layer around the seeds preventing them from washing away if it rains. 

Discover Why We're the Leader for Aeration
Homeowners throughout Myrtle Beach and Murrells Inlet choose us for all their lawn care services, including aeration, because we're the reliable and local leader you can trust. When you have bare patchy grass in your yard and have tried to grow grass on your own, it's time to contact our professional team. We have the proper skills and equipment to handle any size lawn care project. Learn why homeowners throughout the area choose us for lawn care services:
Year-Round Lawn Care
Neighborly Done Right Promise
Knowledgeable and Experienced Pros
Customized Services
Choose Us for Your Lawn Aeration Services
Lawn Pride of Myrtle Beach and Murrells Inlet help homeowners in the area keep their lawn looking gorgeous throughout the year. We offer lawn aeration, and many other lawn care services customized to meet your home's needs. Our Neighborly Done Right Promise ensures you're satisfied with the quality of your services by offering guaranteed results. We'll work closely with you to understand your vision for your yard and help you bring it to life with our comprehensive services. Become the envy of your neighborhood, increase your property value, and improve your home's curb appeal with our lawn services. Contact us today to schedule an estimate.