The Top Aeration and Overseeding Services in Huntsville, AL
A Guide to Lawn Aeration and Overseeding Services
Continually seeding and aerating your lawn is the cornerstone of making it thick and well-nourished. Lawn Pride of Huntsville offers lawn aeration and overseeding services in Huntsville, Alabama. Aerating your lawn promotes healthy nutrient uptake and breaks up tough soil. Overseeding gives your yard an injection of fresh, healthy seedlings to fill in any gaps or bare spots. When combined, these services will make a lasting impact on the appearance and health of your lawn. When performed by highly trained lawn care specialists, these services are among the quickest and easiest ways to upgrade your lawn. Learn more about our aeration and overseeding services.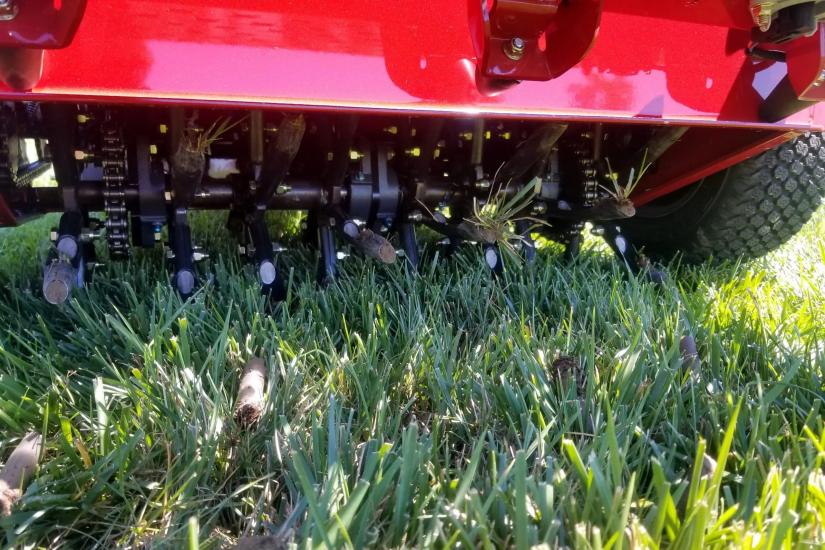 Understanding the Importance of Lawn Aeration
One of the premier ways to fight soil compaction is with lawn aeration. Lawn aeration creates pores in your lawn, either through a liquid solution or with a spike aerator. Airflow, water, and even lawn fertilizer can easily soak deeper into your soil, where it's needed the most. Aerating and overseeding your lawn at the same time can make a noticeable impact because the new grass seed has nutrient-rich soil.
Have You Heard About Liquid Aeration?
When it's time to aerate your lawn, we need to decide whether it is better to perform core aeration or liquid aeration. Core aeration has been an industry-standard technique for a long time, but liquid aeration has become more popular for many reasons. Core aeration involves the creation of holes in the lawn, breaking up the thatch and reducing compaction of the soil. Liquid aeration doesn't require the direct disruption of your soil. Instead, we can use a 100% organic liquid aeration treatment that stimulates microbes in the soil and breaks down compacted soil and thatch. This process reopens pores in the lawn in a natural and healthy way. Liquid aeration has become the better option for most homeowners because it lasts longer and doesn't leave unsightly cores around the lawn. However, we sometimes recommend combining the techniques of liquid and core aeration.

What Is Overseeding?
On top of aerating, overseeding your lawn will promote health and, most importantly, make it look fuller. When Lawn Pride of Huntsville performs overseeding, we spread a high-quality grass seed throughout your entire yard. These seeds take root between the spaces where your current grass is growing. We may also concentrate on bare patches of your yard, helping them fill out over time. While aeration and overseeding are beneficial throughout the growing seasons, we recommend performing them in the spring and fall. These seasons give the seeds ample time to establish themselves in the soil without intense heat or cold interfering.

The Benefits of Lawn Aeration
The most effective time to perform lawn aeration is in the spring, although fall lawn aeration and overseeding can also be very beneficial. When you meet with the lawn care specialists at Lawn Pride of Huntsville, we will inspect your lawn and create a plan for the optimal lawn aeration schedule. Some of the main benefits of lawn aeration include the following:
Promotes healthy and strong grass roots
Allows water and air to penetrate the soil more easily
Loosens compacted soil
Make fertilization more effective
Reduces mushroom growth
Provides insect resistance
Encourages drought resistance within your lawn
Helps new grass grow

How Lawn Overseeding Helps Your Grass
Grass is meant to grow in dense patches. Overseeding fills in the gaps between grass blades and allows new, healthier grass to fill your lawn. When overseeding your yard, you want to give your new seedlings plenty of time to establish roots before the harsh winter weather. So, spring is the optimal time to perform overseeding. Some of the benefits of overseeding include:
Slows soil erosion
Encourages your grass to grow fuller
Wards off pests and diseases
Chemical-free process
Noticeably improves the appearance of the lawn

Why Choose Lawn Pride of Huntsville?
Homeowners in Huntsville turn to Lawn Pride of Huntsville for their lawn aeration and overseeding services because we offer quality and convenience. Our lawn care specialists take the time to learn about your lawn. We know that each lawn is different, and in order for yours to thrive, we need to treat it in a specific way. If you are looking for the most effortless way to improve your lawn's health and appearance, you should consider one of our lawn care programs, like our 7-Application Program. These bundle together services that work well together.
Get a Free Lawn Aeration and Overseeding Estimate Now!
At Lawn Pride of Huntsville, we have become known for our customer-focused services. We don't just care for lawns. We care for people. When you choose us, we will work closely with you to develop a complete lawn care plan. Since we offer a comprehensive package of lawn care services, we are equipped to handle everything from weed control to fertilization. Best of all, we provide free estimates for all our services. Request your free lawn aeration and overseeding service estimate today!