Lawn Aeration in League City, Pearland & Friendswood, TX
Create the Thriving Environment Your Lawn Deserves
At Lawn Pride, our team understands your lawn is much more than just grass. Your yard is an extension of your home, reinforcing its style and aesthetic appeal while creating a relaxing outdoor living space for you and your loved ones to enjoy. We know caring for your lawn can involve a lot of time and even more labor. That's why Lawn Pride of League City, Pearland, and Friendswood provides a comprehensive range of lawn care services, including aeration treatments, to property owners in League City, TX and the surrounding local communities.
Our specialized residential and commercial lawn care strategies at Lawn Pride are custom-tailored to your individual needs and guaranteed to deliver long-lasting results. Explore how Lawn Pride's professional aeration services can help keep your lawn's health in top-notch condition.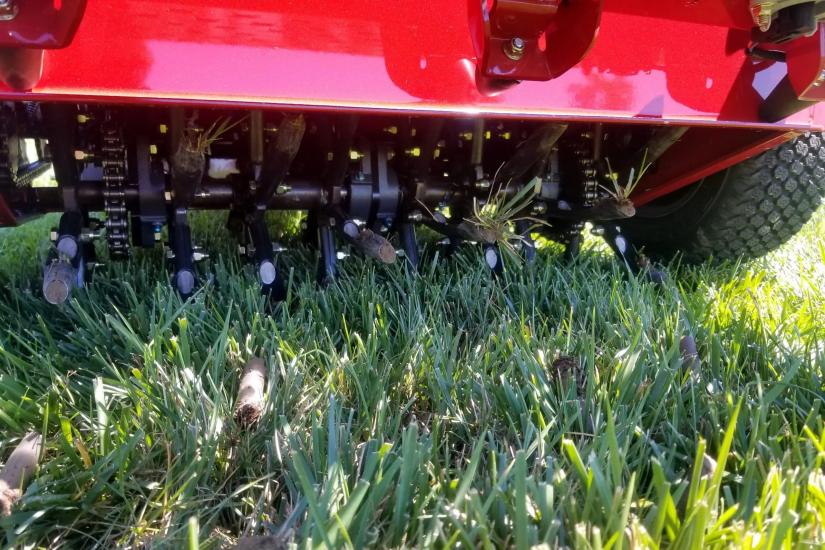 How Lawn Aeration Works
Ground soil with high concentrations of clay and other fine, non-organic particles is prone to soil compaction, creating problematic lawn conditions that make it difficult for water and nutrients to penetrate the ground surface and leave roots without nourishment. Unfortunately, clay-based soil is most common in Texas. This, combined with the region's arid climate and susceptibility to drought, means soil compaction is a fairly common issue among Galveston and Brazoria County property owners.
Luckily, lawn aeration easily eliminates all problems associated with soil compaction! Lawn Pride's professional lawn aeration strategies your lawn to allow air, moisture, and nutrients to reach deep into the soil down to the roots, improving the overall health of your lawn and outdoor property. The ideal time of year to have your lawn aerated is usually during springtime, in the fall, or potentially both, depending on your lawn maintenance needs.

Liquid Aeration – 100% Organic Treatment for Healthier Soil
Lawn Pride of League City, Pearland, and Friendswood proudly offers homeowners liquid aeration, an advanced, 100% organic lawn treatment that bypasses traditional aeration techniques. While conventional core aeration methods have been used for many years and are effective in their own right, this manual approach leaves behind an unsightly layer of dirt cores scattered around your lawn. The liquid aeration treatment process utilizes a powerful blend of organic, biological chemicals expertly formulated to break down thatch, increase water penetration and nutrient uptake, and promote healthier plant growth.
Once applied to your lawn and soil, Lawn Pride's robust, 100% organic liquid composition of essential nutrients, minerals, microbes, and humic acids works together perfectly to encourage stronger root structure, leading to heightened resistance to drought and heat stress and establishing a healthier, most vibrant and resilient lawn.

The Bountiful Benefits of Lawn Aeration
Lawn aeration offers a wealth of exceptional benefits for your lawn and outdoor property, including:
Promotes deeper root growth
Encourages stronger, healthier grassroots
Breaks up densely compacted soil with ease
Enhances the fertilization process
Prevents fungus growth
Forms an insect-resistant barrier
Withstands poor environmental conditions such as drought
Supports new grass growth
Choose Lawn Pride for Your Aeration Needs
Homeowners throughout Galveston and Brazoria Counties continue to put their trust in the world-class lawn care services at Lawn Pride because of our unwavering commitment to setting the industry's gold standard. Choosing Lawn Pride of League City, Pearland, and Friendswood means you will be partnered with tenured lawn care experts with over four decades of specialized expertise!
From fertilization, aeration to weed management, pest control, and everything in between, our team is highly knowledgeable in sustainable, full-service lawn maintenance and care strategies designed to maintain your stunning residential property. Get your individualized lawn maintenance plan started by requesting a free estimate today!