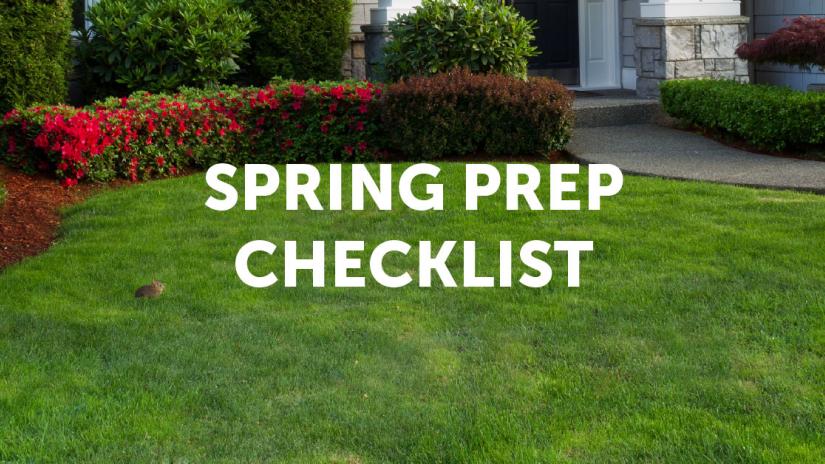 Can you believe spring is already fast approaching? It's never too soon to start planning ahead for warmer weather lawn care. That's why we've put together this handy pre-spring checklist for your yard.
Want the best looking lawn on the block? You're only 4 steps away.
Water Stressed Spots
Have dogs or outdoor cats at home? No matter how much snow you received - or still will - this winter, pets still have to take care of business. Most pets like to use the same section of lawn, so when the ground thaws flush these spots with hose water. The same thing goes for areas of grass along driveways and sidewalks, where salt and ice melt may have accumulated during colder weather.
Rake Your Yard
If you read our blog post on how to deal with snow mold, you know that late winter is a great time to run a rake through your grass. Wait for the weather to warm a bit and the grass and ground to dry out some. Raking helps remove mushy debris and dead grass, which in turn will help prevent pink and gray snow mold from forming in weird patches around your lawn.
Keep on Composting
The beginning of February meant that winter is officially halfway over. And speaking of over, when's the last time you tended to your compost pile? Grab your jacket and a pitchfork or hoe and get out there! Give your heap a good toss or two, turning it over to ensure those nutrients continue to break down like they should. It may not be your favorite chore around the house, but trust us - your lawn will love you when that wonderful organic matter is ready to spread. And while you're outside go ahead and top off your bird feeders. With bird seed, of course! Not compost.
Maintain Your Mower
Not everything you do to prep your yard for spring has to happen outside. Remember, your lawn mower likely hasn't run for several months by now. Before you try and fire it up for the first time in spring, make sure the blades are sharpened, spark plugs are replaced, air filters are clean, oil is fresh and properly topped off, and all moving mower parts are properly tightened and in safe working order. Oh yeah … and that gas. Replace the stuff that's been sitting in the corner of the garage in its red can all winter long. Its roots may be millions of years old, but gasoline does go bad. Contact your local government for tips on where to lawfully dispose of old fuel.
There is a lot to look forward to with spring, and if you love your lawn as much as we do, you'll want to get a jump on the season to make sure your lawn care doesn't fall behind. Contact our team today for more helpful seasonal advice.