Professional Lawn Aeration Service & Overseeding
Our Lawn Aeration & Overseeding Services Let Your Yard Thrive
At Lawn Pride, we're committed to helping property owners keep their lawns looking pristine year-round. Lawn aeration and overseeding services allow your lawn to thrive and make a lasting difference in the quality of your yard. Several things can take a toll on your residential property, from changing seasons to neglecting your lawn's maintenance. Fortunately, the lawn care experts at Lawn Pride provide professional lawn aeration and overseeding services throughout the United States to help you keep your property looking lush, healthy, and beautiful. Reach out to our team of professionals today to learn more about how our lawn aeration service can help keep your yard looking beautiful!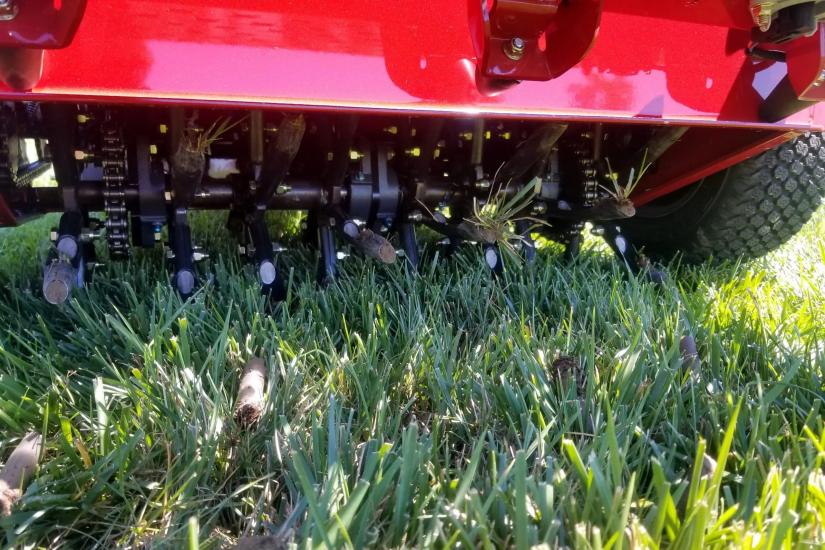 What Is Lawn Aeration?
If you live in a region with a high amount of clay in the soil, soil compaction can be an issue with your residential lawn. Professional lawn aeration services can help eliminate problems related to soil compaction, allowing properties to thrive beautifully. The best time to aerate lawns is typically in the spring, fall, or both depending on your lawn care maintenance needs. Lawn Pride can inspect your property and give you recommendations for a proper lawn aerating schedule.

What Is Overseeding?
Overseeding is a lawn care practice that helps keep your lawn beautiful, green, and lush year-round. Our team applies grass seed to your entire lawn to improve its overall density and fill in bare spots. The best time of the year to perform overseeding services is spring and fall because the seed will have plenty of time to germinate and become established in the soil. Our overseeding service is most effective when combined with our lawn aeration services because the aeration process provides the seed with perfect conditions to germinate and grow. The lawn care experts at Lawn Pride can help you establish an overseeding and aeration schedule for your residential property.

What Are the Benefits of Lawn Aeration?
Some of the key benefits of professional lawn aeration services provided by the experts at Lawn Pride include:
Encourages healthier and stronger grassroots
Allows the soil and roots to access water and air
Helps break up compacted, dense soil
Improves fertilization
Prevents mushroom growth
Provides insect resistance
Improves drought resistance
Encourages new grass growth

What Are the Benefits of Overseeding?
Overseeding services are most effective when done at the start of spring. In addition to providing you with a beautiful and low-maintenance lawn, our overseeding lawn services offer several other key benefits, including:
Reduces soil erosion
Increases lawn density
Minimizes risk of pests and disease
No chemicals used
Improves the lawn's overall appearance
If you are needing to seed your lawn, it's crucial to aerate the lawn first to obtain good seed-to-soil contact for optimal germination. Aerating the soil, also allows for good gas exchange between the germinating seeds and the soil. Seeds, just like any other living organism need oxygen and produce carbon dioxide (CO2). If the carbon dioxide is not able to move away from the seed, the seed will suffocate.

Why Choose Lawn Pride for Aeration & Overseeding?
Homeowners across the U.S. rely on us for their lawn care because we're committed to delivering the highest quality services every time we visit your property. Our professional lawn aeration and overseeding services ensure your yard is kept healthy, looks beautiful, and becomes the envy of your neighborhood. We know every lawn is different, so we work closely with all our clients to ensure our services are tailored to their needs, preferences, and budget.
We're happy to answer questions about our lawn aerating service and how we work hard to maintain your lawn's beauty and healthy year-round. In addition, we're proud to offer lawn care maintenance programs to make it easy for property owners to benefit from our services at any of our locations throughout the United States!
Request Your Lawn Care Estimate Today
When you need professional lawn aeration and lawn overseeding services, there's only one lawn care company you need to call. With more than 40 years of experience, the professionals at Lawn Pride are fully equipped to deliver effective, reliable lawn care services throughout the United States. We're highly knowledgeable about your yard's soil, weeds, grasses, and pests, allowing us to cultivate a stunning residential property. No matter your lawn's condition, we can provide aeration and overseeding solutions customized to match your lawn's needs, preferences, and budget. If you want to make your lawn the neighborhood envy, Lawn Pride is here to help. Request an estimate to get started on improving your residential lawn today!