As parents, Valentine's Day can be just as fun spent with the whole family as it is with you and your partner. If you're including the kids on February 14th, we're here with a few Valentine's Day ideas to make it a memorable holiday.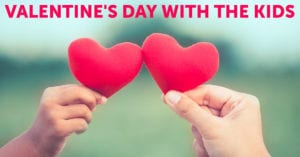 Get an Early Start
Valentine's Day should be full of love, and you don't need to wait for a candlelight dinner to express that to the most important people in your world. Kick off the holiday with a breakfast your kids will love - no Cupid necessary.
We're talking heart-shaped pancakes topped with cherries or raspberries. If your family has a tooth for the more savory stuff in life, cut out the shape of a heart in a piece of bread. Drop it in a buttered pan and crack in an egg for a fun take on the classic egg-in-a-hole.
Sweet Nothings
Your kids will most likely get some Valentine's Day cards at school (along with way too much candy), but that shouldn't stop you from hiding a love note in their lunch. Likewise, a well-placed note tucked into your partner's belongings is a sure way to bring a smile to their face while at home or work for the day.
Make It a Movie Night
Between Netflix and your own DVD case, there are countless romance flicks that are fun for the whole family. Pick a classic Disney title like Aladdin or The Little Mermaid. If your children are a bit older, everyone in the family - parents included - will love The Princess Bride. And no matter how old you are, Gone With the Wind will get you every time.
A Special Dessert
Think back for a moment about a few of your favorite Valentines. Hopefully your better half tops the list, but whoever you spent a memorable date with (even if you celebrated "Singles Appreciation Day"), dessert probably played a part. No Valentine's Day is complete without it. Make a family favorite or try out a new recipe … as long as it is sweet!
Our Three Favorite Words
What's simpler than simply saying "I love you"? If you decide to spend Valentine's Day at home with your family, go around the dinner table and ask everyone to share a reason why they love one another. It will be a fun and creative family moment that will surely warm your heart.
From the Lawn Pride family to yours, have a happy Valentine's Day!