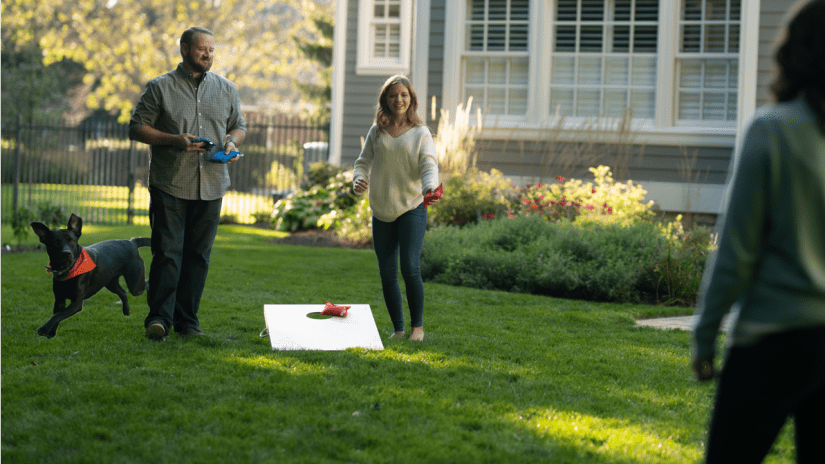 The month of May kicks off BBQ season. Whether it be Race-Day, Memorial Day, Graduations, or Birthdays, we're here with some helpful party planning tips to make your backyard bash a hit.
Prepare the Lawn
The first thing your guests will see is your lawn. Give your lawn the boost it needs to look its best with a spring fertilizer and weed treatment. A proper lawn care program will give your lawn the boost it needs to look its best all season long.
Mowing the lawn is a given! Make sure to mow tall; this will allow the lawn to recover faster after hours of foot traffic. Try to mow a day or two before your outdoor party to allow the clippings to settle.
If you have pets, clean up any steamy piles they have left behind. It's always a good idea to do a final inspection before your guests arrive.
Spruce up the Landscaping
A well-manicured landscape doesn't just look nice; it also helps detract unwanted pests. Prune overgrown shrubs and deadhead your flowering plants.
A strategically placed potted plant can add color to a bland landscape and detract from less attractive areas.
Landscape and pathway lighting will limit stumbling hazards and guide them to the party area.
If you have an unattractive fence, or maybe you need to hide a neighbor's unsightly lawn, try using a reed or bamboo fencing to hide these eyesores.
Clean up the patio and outdoor furniture 
Sweep the patio or deck to remove large debris. And while you're at it, make sure to clear any cobwebs lurking in the corners. Power washing these areas can bring life back into outdoor spaces.
\Wipe down outdoor furniture and wash any cushions; make sure to do this a few days ahead of time so they have time to dry. Cover up concrete with a decorative rug and tie your seating area together.;Adding throw pillows will make your seating area more inviting.
Make sure there is plenty of seating
Spread-out seating areas can help prevent damage to your lawn from heavy foot traffic. Use the canopy of your trees or large umbrellas to provide shade for your guests. If rain is a concern, be prepared to move the party into the garage or have a large party tent on standby.
Treat the property for pests a few days ahead of time to help keep your party-goers comfortable. It's important to remember that having property treated for bugs doesn't stop them from migrating from next door. It's a good idea to also have citronella candles or a few bottles of bug spray to detract wandering pests. Some simple maintenance practices like loosening soil in planters and unclogging gutters and downspouts will eliminate breeding areas.
Get your Grill Ready
The best part of an outdoor party is the food, hands down! It's time to dust of the grill and get it ready for your cookout.
Here are some simple steps to make cleaning your grill much easier.
Fill a large tub up with hot soapy water.
Remove the grill grates and place them in the tub to soak.
If you use charcoal or briquettes, remove them.
Clean the grill lid using a grill brush.
If you have a gas grill, use a stainless steel wire brush to gently debris from burner tubes. A flat-head eyeglass screwdriver is perfect for unclogging burner holes.
Use a putty knife to clean the firebox and grease tray.
Remove any loose debris from the firebox using a shop vacuum.
Spray the inside of the grill with grill cleaner and let sit for 30 minutes.
Meanwhile, scrub grill grates using a wire brush till clean. (If grates are still grimy, try cleaning them with ammonia).
Whip out inside of the grill (repeat step 8 if needed).
Place the clean grates back in the grill.
Clean the outside of the grill using hot soapy water.
Finally, rinse with water and towel dry to prevent streaking and water spots.
Now that your grill is clean and ready to go, fire it up to ensure the gas is flowing properly.
Pro Tip: Make sure you have plenty of fuel!
Food and Beverages
Nothing is less appetizing than food that has bugs crawling on it. Here are some easy chemical-free ways to protect food from uninvited pests:
Keep the food covered. Mesh domes are inexpensive and easy to use.
Oscillating fans around food areas is a great way to detract pesky flying insects.
Keep your drinks bug-free with a cupcake liner. Simply punch a hole in the center of a cupcake liner, place it upside down on your cup, and put a straw through the hole, and, voila! You'll have a bug-free drink.
Set up two separate drink areas, one for alcoholic drinks and one for nonalcoholic drinks. Keeping these drink stations away from each other can help prevent any mishaps!
Budget Tip: The price of throwing an outdoor BBQ can add up fast. One way to help ease the burden is by asking guests to bring a case of their favorite beverage. This way, you also know guests will have drinks they like available to them.
Set the Atmosphere
Even the simplest party decorations can make party-goers feel welcome and entice them to relax and enjoy themselves. Guests who don't feel comfortable are more likely to eat and run. Try some of these ideas to make your outdoor get-together a memorable one!
Sting lighting is a great way to set the welcoming atmosphere and lets your guests know that your okay with this get-together lasting into the evening hours.
A fire pit is another excellent addition for parties that continue into the evening.
A mini sound system such as a Google Home, Alexa, or portable speaker, provides background music to fill lulls in conversation.
Outdoor games will keep your guest and kiddos entertained
For more simple steps to improve your lawn, check out our printable Turf Tips Guide for seasonal lawn maintenance practices.