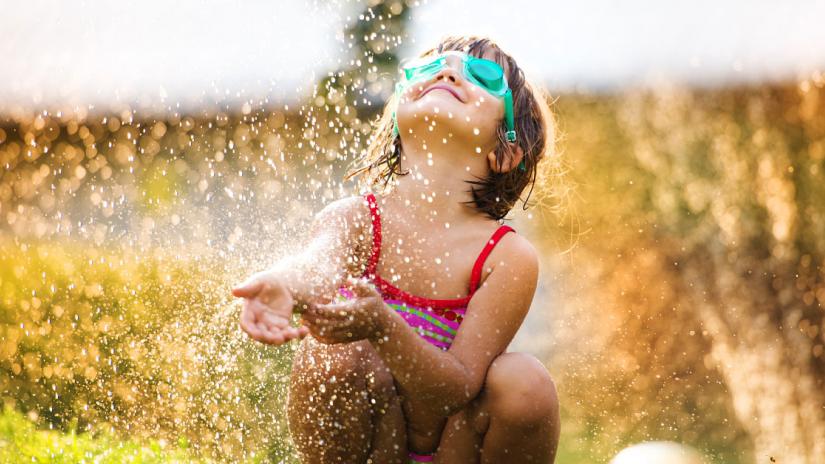 Don't have the time or energy to take your family to the pool this weekend? Make a splash right at home with these fun water games in your yard!
Balloon Batting Practice
Is it swing and a miss, or swing and a swish? That depends on how good your youngsters are at baseball! Grab a wiffle ball bat and swap out the balls for water balloons, and see who can hit the most "home runs." An added bonus - batters won't get bruised if they get hit by
these
pitches.
Hula Hoop Bubbles
Blowing bubbles never gets old, but want to see what it's like to be inside one? All you need is a kiddie pool, some dish soap, and a hula hoop. Fill the pool with five gallons of water and 10 cups of regular (not antibacterial) dish soap. Stir gently and let the solution sit for at least a few hours ... fewer suds = better bubbles. When you're ready, place a hula hoop inside the pool and have a person step inside the hoop. Slowly pull the hoop up around them until they are enveloped by the bubble!
Water Bucket Relays
This one's fun for larger families or bigger groups of kids. Grab one bucket and one smaller container per team. Place the empty buckets on one side of the yard away from your hose. The goal is to fill containers from the hose, hold them on players' heads, and run to the buckets trying not to spill the water. The team that fills its bucket first, wins! For some added fun and challenge, drill a hole in the bottom of each relay container.
Pouring Piñatas
Kind of like batting practice, hang some water balloons from a branch and let the little ones swing away while blindfolded. These "piñatas" will give winners a quick cooldown on a hot summer day, no spoiled appetites or cavities required.
Spongeball Fight
No, we don't mean snowballs. Stop by the dollar store and stock up on cheap colorful kitchen sponges. Cut them in half, if necessary, and toss them in a couple buckets of water. Let the kids go to town.
Giant Water Pong
Like its tabletop "adult" version, giant water pong is a red solo cupful of fun. You can play this with (new) trash cans and soccer balls, or scale down a bit to use five-gallon buckets and wiffle balls. Set up both sides each with 6-10 cans/buckets in a triangle, and whichever team can clear the other side's containers first, wins. Leave the drinking portion out when playing with kids.
DIY Slip & Slide
You know the saying, "go big or go home." Well, you're already at home but why not go big, too? Store-bought Slip & Slides are plentiful, but their questionable quality usually doesn't allow more than a few uses before they tear apart. Instead, a quick visit to your local home improvement store can yield a far better and more fun project. You'll need:
A roll of heavy plastic sheeting (look for 6-mil or thicker)

10 pool noodles

Two peel & stick Velcro sheets

A hose and a sprinkler (if you don't already have these at home)
First, roll the plastic sheet out flat on the ground and place five noodles end to end on each side of the sheet. Position the noodles about a foot inside from the side edges of the sheet. Do this so that you can fold the edge of the sheet back over the noodle like a taco shell, and attach it to itself using Velcro. Now, flip the sheet over. The noodles will serve as runners to help keep people sliding down the plastic surface. Position the sheet on a gently sloping part of your lawn, if possible. Put the sprinkler or hose at the top of the sheet, and start slipping and sliding away! For an even better water effect, drill holes every foot or so down one side, through the plastic sheeting and into the top of the hollow noodles. Then, run a hose into the first noodle to create an arching fountain of water all the way down the slide.
Lastly, while you're having fun in the sun, remember to spend a limited amount of time on the grass while it's wet to avoid any damage to your yard.
We hope this list of summer water games helps you and your kids have fun outdoors. However you spend it, Lawn Pride wishes you and your family a fun, safe summer together.