With Thanksgiving near, we wanted to take a moment and express our gratitude. All of us here at Lawn Pride are passionate and proud of the work we do and the folks we serve. There's no better time to extend our thanks for it all.
Our Principles
We know there are many professional lawn care choices in and around Indianapolis, which is why we're truly thankful for all of our loyal customers who choose us for their lawn needs. We're thankful for the Indiana turf and grasses, we're thankful for the opportunity to provide various reliable services, and we're thankful for our small town, Indiana roots that allow us to be your neighbor and your lawn care provider (at the same time!) We're also thankful for our hardworking, dedicated employees, our management team, Sam and Joe, and our building and resources.
We Know Indiana.
From the tops of your trees to the roots of your grass blades, we live and breathe Indiana plant life and soils. We're thankful for the opportunity to have served thousands of families since 1983, and we strive to help homeowners have the healthiest lawns in Central Indiana. When we thoroughly understand how the region's grasses grow, we know what they need to flourish. We know the weather, the soils, and everything inbetween, which allows us to grow long-lasting lawns that can withstand all of the surprises Indiana weather can throw.
We're thankful to call Indiana home, and we're thankful for the opportunity to care for the lawn around yours.
Locally Owned. Locally Grown.
We're born and raised in the Hoosier state and take pride in serving the Central Indiana community with quality lawn care. We're the right size: We're the largest, local lawn care company in the area, yet we're here to provide a personable, one-on-one relationship with our customers and deliver award-winning lawn care. We're big, yet small at the same time, and will go to all depths to provide every Indiana lawn with industry-leading resources and time-tested, scientific methods. Customer service is at the heart of our mission. Because of the needs of our customers, we're determined to provide every service a lawn could need. Fertilization, aeration, weed control– You name it. At Lawn Pride, our efforts are focused exclusively on the health of your lawn.
We're thankful for our small town, Indiana roots, and for the opportunity to keep your Hoosier lawn beautiful.
Our Location
Our headquarters are located on Johnson Road (off Shadeland and the 86th street exit on 69.) Our south location is off Southport Road and Emerson off 65. We're thankful for two incredible buildings, vans, and resources that make our services possible. Our homebase consists of vital resources needed to provide all of our excellent services.
Our Employees
Our 60 employees are comprised into 3 teams: production, management, and customer service. The success of our company would not be possible without each and every one one of these people! We are thankful for their dedicated service to making Lawn Pride the greatest lawn care company in the state. Thank you to every single one of you for helping us provide the best service and optimal results for our customers.
Of course, we can't forget about our MVPs! We're very thankful for the official Lawn Pride mascots, Sam and Joe, the Lawn Pride Labs!
Management
We're thankful for the leadership that guides us through each and every day. Thank you to our management team for your efforts in making Lawn Pride the go-to, Central Indiana lawn care provider. Without the support from members of the management team, we wouldn't be where we are today. Thank you to all of the members who lead and guide the direction of our company.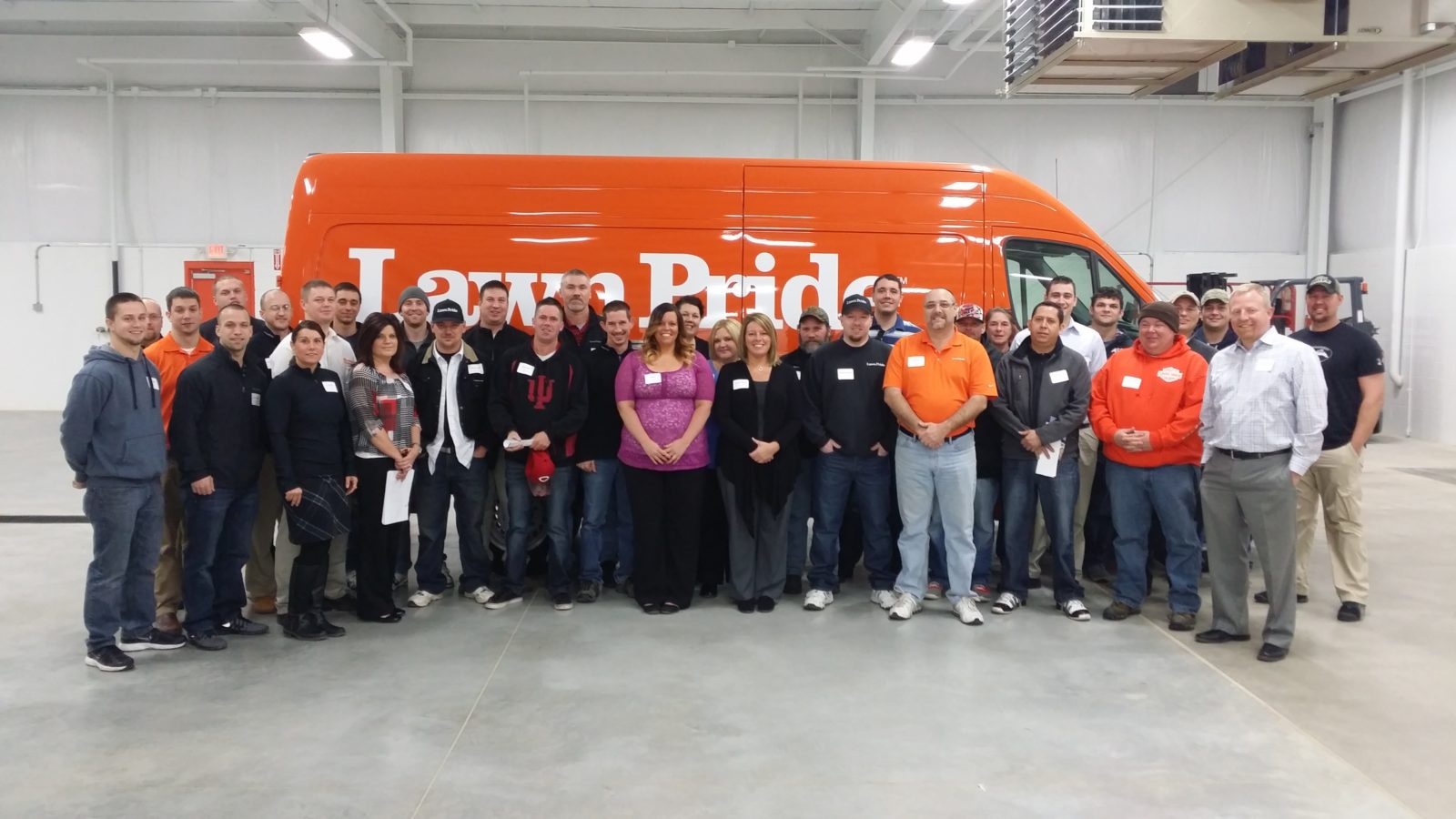 Our Customers
Most importantly, we are incredibly thankful for our customers! Thank you to all of our Central Indiana customers residing in the surrounding Indianapolis cities. We greatly appreciate your sincere loyalty to Lawn Pride and the motivation you provide us in loving our jobs every day of the year!
Current customers: it's that time of year to sign up for your spring program. Please call 317 251-6800 to schedule yours today! If you have a family member, friend, or neighbor who is in need of excellent lawn care, please refer them to Lawn Pride!
As always, feel free to
contact us
to learn more about our services and programs.
This Thanksgiving, Lawn Pride wishes you and yours the most enjoyable holiday. We hope your Thanksgiving is filled with lots of family, food, and celebration. For over 30 years, our customers have thanked us for quality service and the results that speak for themselves. So in return, we want to thank YOU.