You've put in the effort to make it beautiful, and now your backyard is simply begging for a summer party. The surefire way to host a fantastic outdoor bash is food! Here are a few menu ideas to help you satisfy the masses.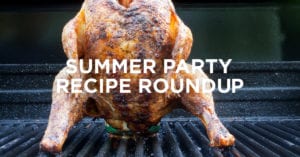 Steakhouse Kebabs
Grilled skewers make an excellent party-pleasing meal option. With the whole bite-sized meal packed on a stick, guests can easily grab a kebab and chow down! The best part of all? Kebabs come in an endless variety of ingredient and seasoning options. Find 50 more delicious kebab ideas here.
Beer Can Chicken
Beer Can Chicken puts the "fun" in functional for this summer grilling classic. The beer can stabilizes the chicken upright on the grill, eliminating the need to flip or fuss for even, all-over crisping. The liquid left in the can (after a few refreshing sips!) keeps the chicken moist throughout during cooking. Depending on the size, each bird can feed 5-7 people!
Grilled Bacon Wrapped Jalapeños
Forget the fryer—try this new grilled twist on jalapeño poppers wrapped in bacon! They come together quickly and prepare well in advance. You may even meet a few new neighbors who wander over to investigate the appetizing aroma wafting from your grill.
Pico de Gallo
Whether you find them in the garden, the farmer's market, or the produce section, put plentiful summer tomatoes center stage in a big batch of fresh Pico de Gallo. Served with crispy corn tortilla chips, Pico de Gallo is always a hit for snacking and meal time alike.
Classic Strawberry Shortcake
Light, airy, fresh and sweet, Classic Strawberry Shortcake is the perfect way to wrap up any summertime meal. With strawberries in season, this simple dessert wins points for being a budget-friendly way to satisfy a sweet tooth!
More Ways to Feed the Crowd:
Corn for a Crowd
Party Pinwheels
Build-A-Burger Bar
Seven Layer Salad
Homemade Lemonade
Baked Beans from Scratch
Awesome Pasta Salad
Let us help you get your backyard ready for the big bash. Contact us for
Mosquito Control
or a
fast & free lawncare estimate!