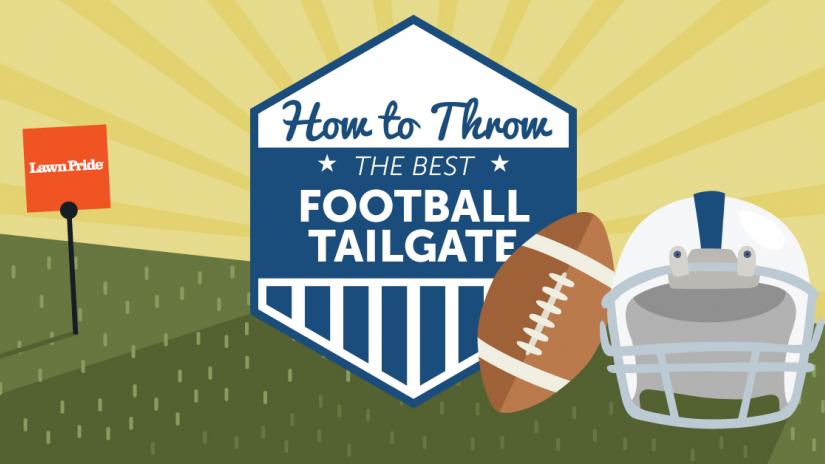 It's time for some football already, can you believe that? The Indianapolis Colts kick off their regular season on Sunday, September 9 when they host the Cincinnati Bengals. We polled the Lawn Pride office for some of our team's favorite tailgating tips. So grab the grill, crack open a cold one, and get ready to throw one heck of a party!
The Three Tailgate Essentials
No proper tailgate is complete without these three necessities:
Meats (burgers, brats, hot dogs, chicken wings, etc.)
Drinks (beer, soda, water, etc.)
Accessories (utensils, extra propane/charcoal, ice, chairs, etc.)
In other words, you need food, beverages, and equipment to prepare and enjoy them all. Any seasoned tailgater will tell you it's best to plan ahead. Packing a portable grill? Don't forget the tongs and spatula. Carrying in some coolers? Be sure to bring the ice. Expecting guests? Grab a folding table and some spare chairs. Make a checklist and double check it well before the Colts kick off. This is what separates the superfans from the fairweathers.
Some Tailgate Tips & Tricks
We can't all roll up to the party in a fully stocked RV, so if you're tight on space or resources, simply improvise! We asked around at Lawn Pride and learned some tailgate hacks that would make MacGyver proud. Here are a few of our favorites.
The "cooler in a case."
You don't need a truck bed full of Yeti coolers to keep your drinks cold. For a quick and disposable cooler, empty your favorite beer or soda case and line it with two kitchen trash bags. Put the beverages back in and top off with ice. This works a bit better with bottles due to their shape, but if you prefer cans, leave one or two out so the case holds more ice. When you're done drinking, toss the whole thing in the trash. How about a warmer instead? On the flip side, turn any standard plastic cooler into a warming oven by lining the insides with heavy duty aluminum foil and placing hot bricks in the bottom. That way, you can prepare a few hot dishes at home beforehand and keep them warm until it's time to eat.
An easy condiment caddy.
Save a couple cardboard six-pack holders and fill them with condiments. These are easy to transport and carry to and from your tailgate, and keep the ketchup, mustard, and all your favorite sauces conveniently together.
Step up your party game.
We've all played cornhole and flippy cup before, but this football-themed DIY beer pong table takes the game to the next level. Build one yourself with these simple directions, and be the tailgater everyone else talks about.
It's all about the finger foods.
Let's face it - tailgates can be messy. You may be a steak master, but most folks don't want to sit down to a three-course meal before the big game gets started. Instead, think of ways to make your favorite foods more finger-friendly. For example, put chili into bread bowls instead of actual bowls. Pair sausage and bacon with pancakes so you can fold them up like tacos. And don't forget the sliders, jalapeno poppers, chicken wings, and other party favorites that are easy to grab and eat on the go.
Where's YOUR Favorite Tailgating Spot?
Tailgates are just like real estate. It's all about location, location, location. So where do you like to party? Whether you are a resident of Touchdown Town, the Indy Blue Crew lot, or another gameday hot spot, it's important to surround yourself with good times and great people. If you have a favorite place to tailgate for Colts games, or if you have some tips our team and fans at Lawn Pride should know, tell us! Connect with us and tag @LawnPride on
Twitter
,
Facebook
, or
Instagram
. In the meantime, we hope you're gearing up for September 9. Let's go Colts!