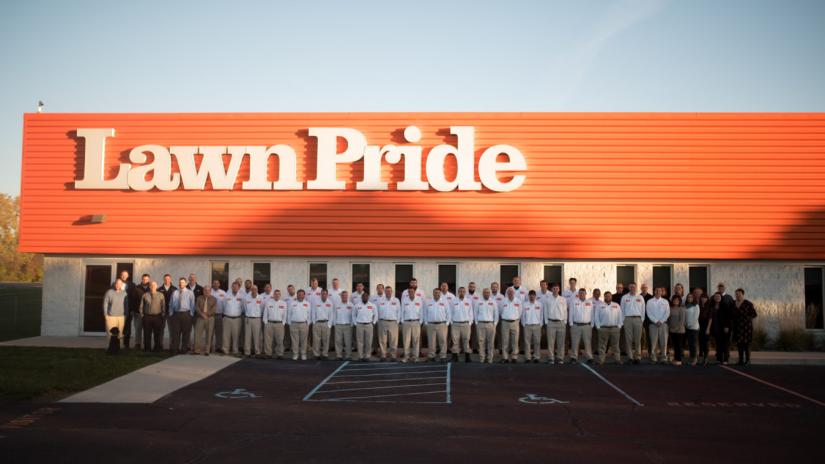 As another year comes to an end, we're happy to take the time to appreciate all that we have. We are aware of the many blessings in our lives and the thousands of reasons to be grateful. At Lawn Pride, we are proud of our dedicated employees, our effective programs and services, and our ability to keep lawns beautiful and green throughout the state of Indiana. This Thanksgiving, we're here to reflect on these blessings and hear what our employees have to say. We've conducted a survey and here is why we're thankful – the Lawn Pride employee perspective.
So, what are Lawn Pride employees most thankful for this time of year?
Their Thanksgiving Meals
Of course! From the turkey and gravy to mashed potatoes and green bean casserole, (plus much, much more), Lawn Pride employees love to appreciate an annual Thanksgiving feast. Whether the long Thanksgiving weekend means we're eating leftovers and watching football, chasing around the little kids, or simply, sitting back and enjoying that our older children are home for the holidays, Thanksgiving reminds us all to be thankful for these precious moments of (eating turkey), and most importantly, spending time with the ones we love.

Their Family & Friend Time
Yes, the turkey is important, shopping deals are good, and giving back to the community is a crucial part of the holiday season. But, above all, the holidays encourage time away from work and influence memories made with family and friends. As we've learned, hard work will always pay off, and thankfully, our efforts throughout the year allow us to take some time during the offseason to create those special moments. Pumpkin carving, home and tree decorating, movie watching, and board-game playing, are some of the many holiday traditions had by Lawn Pride employees and their families.

Their Lawn "Pride"
Thanksgiving celebrations and family time wouldn't be possible without a career that motivates employees to reach their full potential. For Lawn Pride employees, there are thousands of reasons to appreciate the opportunities to excel in the lawn care industry. Read it for yourself!
I am lawn "proud"…
… "because of our overall willingness to take care of the customer and our employees." … "of the dedication we all have to do our best to satisfy the customer." … "because we continue to grow every year. Our growth speaks for the quality work that we do for our customers – all the way through the company." … "because we offer a program that will achieve the results customers are looking for and we always stand behind our work." … "because of the knowledge I've obtained to help assist customers in getting a better lawn, fewer pests, and a healthier landscape." … "because I can use my knowledge to help people achieve the lawn they desire." … "because the owners take pride in their business and it shows! It is a small enough business to feel like a family." … "because I appreciate being able to address our lawn care customers needs and being able to help them achieve their lawn care goals!" … "because I am glad to be part of a growing company. I feel that we provide the best service for our customers. I enjoy open communication with different departments." … "because I feel that our company takes "Pride" in everything that we do. The owner invests money back into the company ensuring that we have the best equipment to complete our jobs." … "because I'm happy to be apart of a thriving company that truly cares and looks after their employees." … "because we take pride in what we do, to be the best." … "because of the customer service team we have and the products and services that we give our customers." … "because I love being part of an organization that allows me to treat it as my own. It warms my heart to say I have some part in what we have grown into as a company."