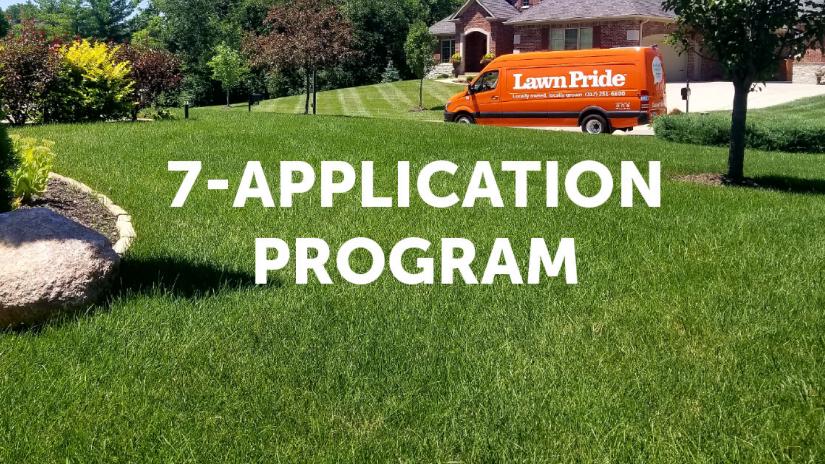 Calling all lawn lovers!
Are you passionate about your yard and keeping it healthy through every season? You need our 7-Application-Program – Your lawn will thank you. This signature service is guaranteed to give you the best lawn on your block, and maybe the entire neighborhood!
7-Application Program: What It Includes
Multiple customized applications mean a lush, healthy, lawn. At Lawn Pride, we don't apply a single treatment and call it complete. No one-and-dones here! Instead, we apply seven treatments just like the program describes, for consistent, effective lawn care. This multi-month package includes:
Fertilization Treatments:

They begin in early spring and run through winter. We utilize a specialized granular fertilizer which optimizes lawn coverage.

Pre-emergent treatments:

These are applied in early spring to create a barricade against annoying grasses such as crabgrass and foxtail.

Weed control:

We closely monitor Indiana weather conditions and apply herbicides at optimal times and growing conditions.

Insect control

: This helps protect your lawn from the harmful effects of pests. You'll get at least two insect control treatments in one year.
The local pros at Lawn Pride are seasoned experts when it comes to weather across our state. And because no two years are exactly the same in Indiana, we tailor your application schedule to ensure you're getting the best coverage as well as the best bang for your buck.
Ready to get started on your 7-Application Program? Click the link to get a fast, free quote, or simply give us a call. We'll explain how it works and what you can expect to see with your lawn through every step of the process. We're also happy to share some other helpful tips and services we provide that may be better suited for your particular lawn.
If you take pride in your lawn, contact the only pros in town who will love your yard as much as you do. Get in touch with Lawn Pride today.