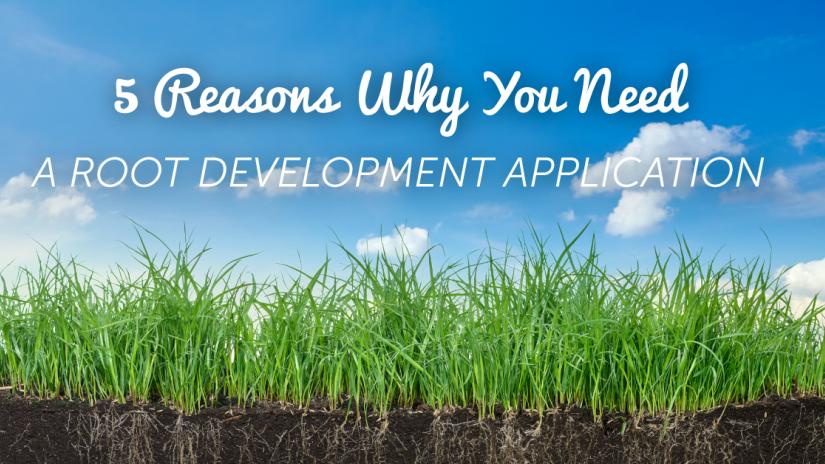 While you're starting to think about the upcoming holidays and what to bring to your family get-togethers this time of year, your grass outside is also looking forward to its last big meal of the fall. We're talking about fertilizer of course and doing so now can help ensure your lawn achieves proper root growth for next spring. Here's why.
Reason #1 – Nutrient Storage
Roots are the heart of the lawn, and without strong roots, a healthy lawn will be hard to sustain throughout the harsh, winter months. Fertilizing your lawn in the fall gives it a boost of much-needed nutrients, which helps continue 
root growth
into November and December. This added growth will help prepare the grass as it prepares to go dormant during the coldest months. If possible, just remember to mow your yard before applying fertilizer!
Reason #2 – Summer Stress Recovery
While lawns look their best in the spring (cool-season turf loves 65-75 degree weather), summer months are the hardest on the grass. Summer stressors include bouts of high heat and low or no precipitation – both of which we experienced here in Indiana this year. An autumn fertilizer treatment gives your grass one last blast of nutrients to help recover from summer weather conditions.
Reason #3 – Winter Resiliency
With its freezing temperatures, snow, and ice, winter isn't easy on grass either. Fertilizing your lawn in the autumn helps continue root growth. This added growth will help the lawn as it prepares to go dormant during the coldest months, making it even stronger and better able to stand up to all of the wild winter conditions we're used to here in the Hoosier State.
Reason #4 – Spring Head Start
Late fall fertilization allows your lawn to store up nutrients.  The stored nutrients will strengthen and help jumpstart your lawn once spring arrives.  As an added bonus, a lusher lawn naturally repels more weeds, making your spring lawn care chores that much easier to complete.
Reason #5 – Loving Your Lawn!
Speaking of chores, loving your lawn really is a year-round affair. Fall fertilizing is critical, but it's just one of many essential tasks you should tackle throughout the four seasons – when it comes to your yard, there is always something to do. Need a hand with your lawn care in Central Indiana? 
Get in touch
 with the team at Lawn Pride. We've been maintaining lawns around the region for decades, and we're ready to start improving yours today!