It's crucial to nourish your turf in the late fall so that it can stand up against Old Man Winter. A special root development fertilizer is one of the last treatments your lawn needs to ensure protection during the winter months. After applying our Root Building Application, you'll have a stronger, healthier lawn come springtime. Below, the turf pros at Lawn Pride have gathered tips for proper root development for late fall.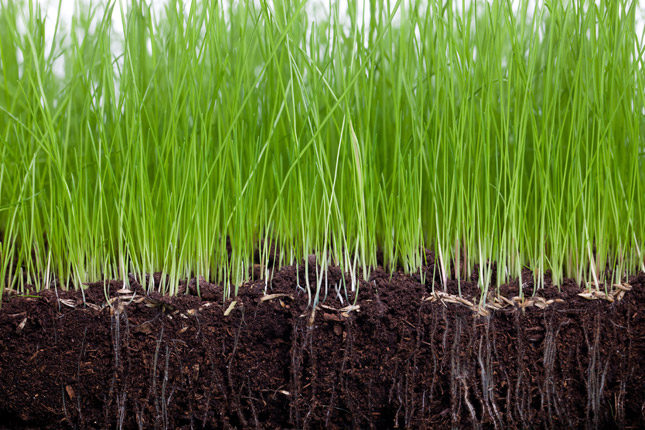 With the temps cooling, it's time to give your grass a boost of nourishment to carry it through the cold weather months. A high nitrogen-based fertilizer will help build the energy reserves it needs to carry it through the cold season. Because the process of photosynthesis and top growth slows in the late fall, a nitrogen-based fertilizer helps nutrients make their way into the root system, which encourages root development.
Why is a Root Building Application Important?
A Root Building Application will help store food over the winter months to help encourage root development. The way your lawn is maintained now determines how your grassroots will develop in the spring. Roots are the heart of your turf and without healthy roots, your turf is less likely to fight off drought conditions, disease, or even the severity of insect damage.
Other Late Fall and Early Winter Lawn Tips:
Final Mow of the Season
We recommend one final mow in early November with a length of around 3.5 - 4 inches (as usual!) If you have a heavy layer of leaves and/or pine needles in your yard, be sure to 
eliminate these
before mowing. Set your machine to mulch mode and let it chew up what's leftover.
Plant Those Bulbs!
Around here, fall bulb planting for spring flowers is usually done in September and October, when soil temperatures are optimal for these types of flowers. So, if you have a pack of bulbs you haven't gotten in the ground yet, go ahead and do so now.
Measuring, Mixing, Etc.
Choosing the right fertilizer mixtures, formulas, and so forth can be confusing. Also, the long-term manual labor involved is just too much for a lot of folks. Thankfully, there's another option in Central Indiana. Count on us to do the work for you! From designing optimal nitrogen-phosphorus-potassium fertilizer solutions for your specific lawn to maintaining proper lawn care in all seasons– leave it to your local lawn care pros here at Lawn Pride do the job for you!
Contact us
 today to ensure your yard is as healthy as possible once spring arrives. Looking for more advice on 
fall lawn prep
 or 
tips to prepare for the winter ahead
? Check out more from our 
blog
.