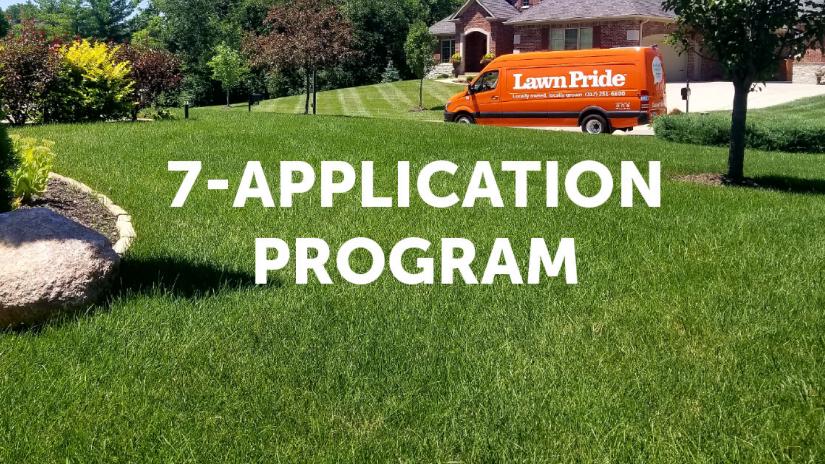 When it comes to having the best lawn on the block, one day of work isn't going to cut it. A truly healthy, happy lawn requires a labor of love.
Don't think you can tackle the job by yourself? Have no fear – Lawn Pride is here! Keep reading to learn more about our proven 7-step solution to having the healthiest yard yet, all season long.
Our Proven 7-Step Lawn Application Includes:
In order to prepare your yard for the warmer months ahead, we get started now. Utilizing a carefully blended and measured slow-release fertilizer, Lawn Pride provides several "feedings" starting in early spring and wrapping up in the winter. This ensures your grass receives all the nutrients it needs to grow and stay strong through all four seasons.
Pre-emergent herbicides are designed to stop and control weeds before they are able to germinate and emerge from the ground. This solution provides a chemical barrier that blocks future plant growth, without harming what is already there. Lawn Pride likes to apply a pre-emergent treatment in early to mid-spring, depending on the weather.
To help support that powerful pre-emergent, we also rely on targeted herbicide treatments throughout the year. A lot of factors determine when we apply weed control, but none are as important as you. At Lawn Pride, we pride ourselves on personalized customer support, and will work with you to create a treatment schedule that best fits your needs.
We don't stop once the weeds are gone. There are many pests that wreak havoc in your yard, but we know that not all insects are bad. Lawn Pride will take care of the bad ones while protecting the beneficial bugs around your home. We guarantee at least two insect control treatments a year, with the ability to add on extra treatments for a nominal cost.
By the time spring arrives, we guarantee you'll begin to see the benefits that come from our holistic approach to lawn care. Our 7-step lawn applications begin every February, so contact us soon to beat the crowds and get those lawn improvements started today!