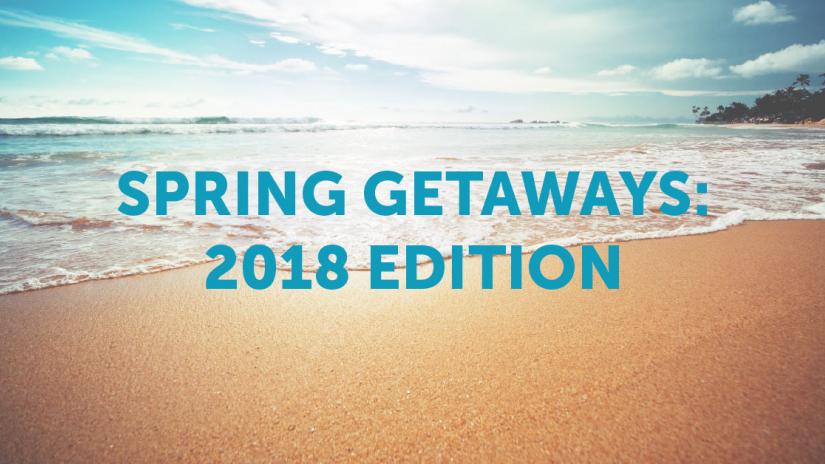 This time of year we could all use a spring break (or two), but responsibilities and budgets don't always allow us to get away somewhere far away. Have no fear! Lawn Pride has put together a few of our staff's favorite spring escapes, perfect for a weekend respite and within easy reach of Indianapolis.
Madison, Indiana
In about the same time it takes to watch a bad movie, you can hop in the car and drive to cozy Madison, Indiana. Home to about 12,000 fellow Hoosiers, this cozy town on the Ohio River is only two hours away and home to all sorts of fun springtime fare. Nestled along the Indiana Wine Trail, Madison is also known for its annual Madison in Bloom garden tour. Explore the historic downtown or soak up the picturesque countryside. After taking in a gourmet farm-to-table dinner, doze off in one of the area's many quaint B&Bs or inns.
Columbus, Ohio
If big cities are more your thing, hit the road for Ohio's capital of Columbus. Only two and a half hours away, Columbus offers some of the best dining and entertainment in the Midwest. Art, sports, live music, theater … there is something for everyone. Spring favorites in this metro of about two million include the Topiary Park downtown, and the outstanding Columbus Zoo and Aquarium - home to more than 600 species of animals from every corner of the globe. Whether you're looking for a romantic getaway, a fun-filled family weekend, or an all-nighter on the town, Columbus won't disappoint.
Holland, Michigan
Only four hours or so away from Indy will be about four million tulips come May 3-18. If you're a fan of flowers, festivals, or simply fun little towns, Holland, Michigan is the place to be. During its annual Tulip Time festival, this town of 30,000 blossoms to half a million visitors from across the world. As its name implies, Holland is home to a lot of Dutch culture and boasts a lot of memorable things to do for a couple or an entire family. Visit the boutiques downtown, get up close to a real 250-year-old mill (brought over from the Netherlands) in action, or hit the shores and enjoy some fun in the sun on Lake Michigan.
Dubuque, Iowa
The longest road trip on our list clocks in at about five and a half hours, but we think Dubuque is definitely worth the drive. Iowa's oldest city has a population of about 60,000 people, which offers a nice blend of small town charm and city appeal. Long connected to the nearby Mississippi River, Dubuque offers plenty of rich history along with modern amenities. Take a funicular elevator ride (which happens to be the shortest and steepest railway in the world) up 296 feet for a breathtaking tri-state view, or go deep into some of the region's best spelunking at Caves State Park. Dubuque is home to the National Mississippi River Museum and Aquarium, and you can even catch some ZZZ's in the same hotel Public Enemy Number One, Al Capone, once stayed.
Where are some of your favorite spring getaways in and around Central Indiana? Learn about more Midwest Weekend Escapes to get away for a couple of days, a week (or more)! Happy spring from your friends at Lawn Pride. Enjoy your spring vacation!