Looking for a winter weekend getaway? You don't have to travel very far! There are countless escapes across Indiana and throughout the Midwest, perfect for you and your family this winter season. If you want to rent a cabin or simply beat your cabin fever, there is an adventure nearby just waiting to happen.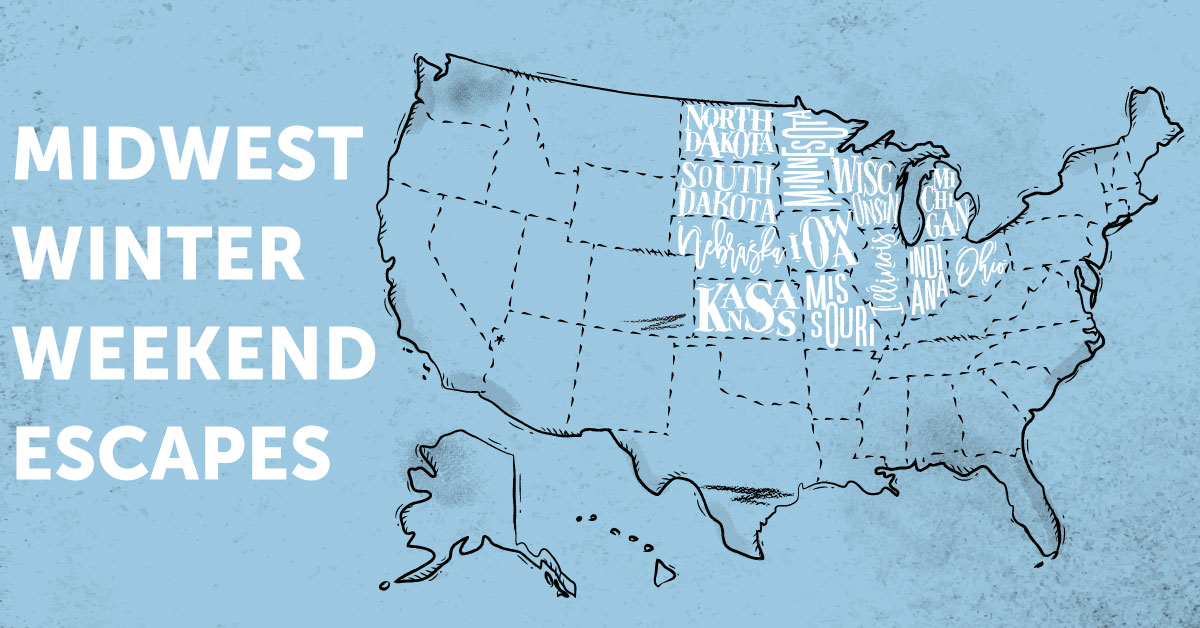 Here are a few of our favorite spots from your friends at Lawn Pride:
The Big City
Don't get us wrong - we absolutely love Indianapolis. But, if you're itching to get out of the Circle City for a weekend this winter, why not head a few hours northwest to the Windy City? Chicago has it all. The list of attractions is too long for this blog post and too long to tackle in a single weekend. However, some cold weather attractions include the Skating Ribbon in downtown's Maggie Daley Park (an absolute winter must in our opinions); a view out over the Chicago skyline and onto icy Lake Michigan from Chicago Skydeck inside Willis Tower; and no trip to Chicago would be complete without a selfie in front of the famous Bean.
Small Town Charm
Covered bridge country is beautiful any time of year, but it's especially pretty in the middle of winter, in part because there are fewer tourists crowding the roads. One of the Hoosier State's best spots for antique bridges is Parke County. Choose from several bed & breakfasts in the area, or grab a quaint cabin at Turkey Run State Park. If you need a break from bridge viewing, warm up in one of the many local shops and eateries.
Warm & Cozy
It's a bit of a hike to get there, but Door County, Wisconsin is a lot closer than Cape Cod, Massachusetts. Why do they call Door County the "Cape Cod of the Midwest"? Make the six-hour drive up there and you'll see why in an instant. The eclectic shops, art galleries, and restaurants stay open all year long to welcome a steady stream of tourists from the Midwest and well beyond. Stroll a few of the 300 miles of frosty Lake Michigan shore, or take a tour of the historic and picturesque peninsula by sleigh or trolley. Check in at one of the many locally owned B&Bs, cottages, cabins, or resorts, and you may not want to head back home.
Outdoor Adventures
Michigan's Upper Peninsula has a unique heritage that differs in a lot of ways from the rest of the state. One thing those "Yoopers" do especially well is skiing. The UP is home to several wonderful ski resorts that are well worth the day's drive to get there. If you prefer bunny ropes or black diamonds, there are plenty of perfectly powdered trails just waiting for you to carve them up. Interested in something other than skis or snowboards? How about a sled? The UP is home to some champion dog sledding kennels, and visitors can spend the afternoon or an entire weekend on a mushing expedition.
Something for Everyone
Only a couple hours south of Indy, one of our favorite winter (and any other time of the year) getaways is the French Lick Resort in French Lick, Indiana. From the massive casino to romantic eateries, world-class spas and indoor pools, a winery, a water park, and so much more, this destination is a hotspot of winter fun for the whole family. If you want to take it outside, French Lick is nestled in the Hoosier National Forest and close to all the hiking, skiing, and tubing your family can handle.
The Midwest is a huge region and we know we just scratched the surface with this list. Where do you and your family like to get away around here during winter? Have a favorite spot in Indiana or a nearby state? Share your weekend trip tips with us on Facebook! Or if you're looking to stay close to home this winter, check out these winter activities for you and your family in Indianapolis!