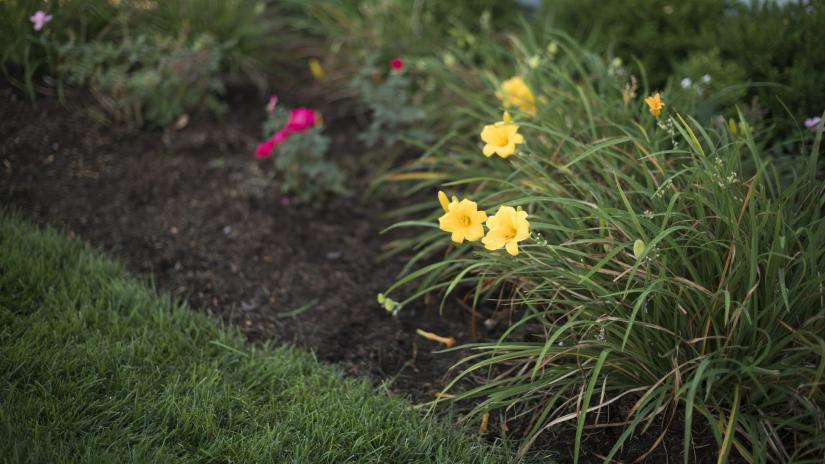 Spring lures new life from plants to birds (and bees). So it only makes sense to want to plant new grass in your existing lawn, right? WRONG! It's true,  April shower will bring May Flowers. However, it also brings obstacles that can hinder new grass growth.
What's Wrong With Seeding In The Spring?
Spring provides plenty of water and warmer weather that is great for promoting plant growth. However, that also includes weed growth. We all know too well how fast weeds can grow; that's why they say, "grows like a weed." So if you plant grass seed in the Spring, your new grass will have to fight for room to grow against faster-growing weeds. You might be thinking, "I'll just treat the weeds so my new grass will have plenty of room to grow." WRONG Again! New grass can't handle weed control until the plant has time to "harden off" (this is the plant term for mature). In general, agronomists say that this occurs after new grass grows tall enough to be mowed twice.
Another BIG problem with seeding in the Spring is Pre-emergent. Pre-emergent is applied in the Spring to create a protective barrier against summer annual grassy weeds that will grow later in the season. These Pre-Emergent applications are time-sensitive and must be put down before the ground temperatures get high enough for grassy weeds like Crabgrass to germinate. If you seed after your lawn has had a Pre-Emergent application, the grass may start to sprout. However, once the roots reach the Pre-Emergent barrier, it will just fizzle out and die. You may say, "Okay, then I'll just seed before my Pre-Emergent is applied." Again, WRONG! The purpose of the Pre-Emergent is to create a barrier of protection that prevents these types of plants from emerging from the ground. Meaning they can't grow past the protective barrier.
Why Are There So Many ADS For Grass Seed In The Spring If It's Not a Good Time To Seed Your Lawn?
Seeding in the Spring can be an uphill battle and often unsuccessful. However, some situations warrant a Spring seeding. New homes, for example, often have very little grass in the back yard. This can lead to a muddy mess throughout the year. In cases like this, seeding in the Spring could prove to be beneficial. The rule of thumb is; don't seed in the Spring unless you have less than 50% grass in your lawn. Because, let's face it, in situations like these, any grass is better than having a mud pit in your back yard, even if it has weeds.
Maybe you have large sections of lawn damage caused by a pet. As long as you are okay with the areas that need to be repaired being susceptible to weeds, then, by all means, go for it. Just think of it like a bad haircut. It might not look the best, but with a bit of patience, it will improve with time.
If you find yourself needing to overseed your lawn, don't forget to notify your lawn care company! This way, they can adjust your lawn applications accordingly. As someone who has work in lawn care for many years, it's heartbreaking to learn that a customer wasted money on grass seed because they forgot to let us know that they seeded their lawn. Especially when I know that they're hoping that I will tell them that their seed will be all right. But, sadly, I can not.
So, Then When Is The Best Time To Seed Your Lawn?
Experts agree that the best time to seed your lawn in Central Indiana is in the early Fall. Because summer annual broadleaf weeds start to die off in the Fall naturally, the new grass doesn't have to fight for room to grow as it does in the Spring.
Also, grassy weeds like nimblewill and Crabgrass will start to die off after the first frost. So you can poke as many aeration holes in your lawn as you want without worrying about breaking your Pre-emergent barrier.
What You Should look for in an Aeration and seeding Service.
There are a few things to remember whenever you're planning to seed your lawn. When comparing aeration and seeding prices, make sure to take these essential factors in mind, because cheaper doesn't mean better!
Seed Quality
Seeding Rate
How much seed do they apply per square foot of lawn?
Lawn Pride applies seed at a rate of 4 lbs. per 1000 sq ft.
Aerating
Company Reviews
Remember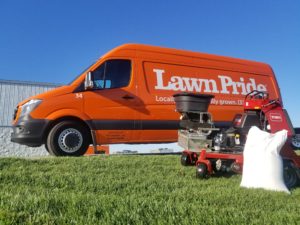 We serve all of Central Indiana, so if you live in Indianapolis, on the northside (Fishers, Carmel, Westfield, Zionsville, and Noblesville), Westside (Avon, Plainfield, or Brownsburg), the eastside (Greenfield), or on the southside (Greenwood) - click the link to get your free Aeration and Seeding estimate today!
    Click the link to get your
free Aeration and Seeding estimate today!