Lawn Care for Greenwood, Indiana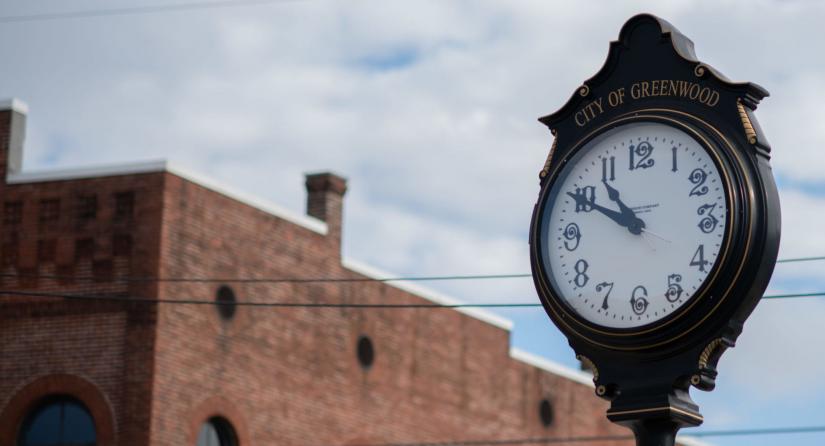 Lawn Pride is proud to serve Greenwood Indiana.  We know that there are many things you would rather do than spend your limited free time doing yard work. We are here for you, so you can get back to things you enjoy. So spend some time with your family and friends at Freedom Springs Aquatics Park, head to Greenwood Park Mall to get some shopping in or grab a bite to eat and leave your lawn service to us!
---
Lawn Care Services Available in the Greenwood, IN Area
Lawn Pride's fertilization services will improve your lawn with the proper amounts of nutrients specially formulated for lawns in the Greenwood Indiana area. In addition to fertilization, our seasonal program includes:
Pre-emergent – Our pre-emergent is applied in early spring. This application establishes a barrier to keep away grassy weeds like foxtail and crabgrass.
Weed Control – We apply broadleaf weed control throughout the year. Our applications are tailor according to the weather, needs, and overall conditions of the Greenwood area.
Insect Control – Included twice a year, our insect control keeps insects from harming your lawn.
A fall Aeration is one of the single best things that you can do for your lawn. This process alleviates soil compaction, improves drainage, and provides much-needed oxygen and water to your root system. This creates a thicker, healthier lawn. We're here to deliver an easy and efficient annual aeration service for Greenwood residents so that your lawn gets the care it needs.
Because aeration breaks up soil compaction, the process generates ideal conditions for seeding. More nutrients, air, and water will have access to your lawn's root zone, making it easier to enhance the lawn's thickness, fill in bare spots, and enhance the color of your lawn.
Grubs are the larvae of beetles. They feed on the root system of your grass. This can cause unsightly damage. Lawn Pride's Preventative Grub Control Program is a seasonal preventive application that is created to prevent grubs from damaging your lawn.
Our Grub Program includes a unique guarantee. If your lawn is damaged by grubs after taking our Preventative Grub Program, we will not only retreat your lawn but, we will also repair your lawn back to its prior condition. Our Preventative Grub Program also includes watering instructions that are specially designed to team up with our grub control to kick grubs to the curb!
Protect your home and family from harmful insects, bugs, and critters. Lawn Pride offers a wide variety of pest control applications to solve your pest problems.
Perimeter Pest – We can keep pests at bay by creating a barrier of protection around your home.
Mole – Our proven 2 application Mole Control Program will stop moles from destroying your lawn.
Vole – Voles can wreak havoc on your lawn. Let Lawn Pride bring their destruction to an end.
Lawn Pride offers three and shrub applications to protect your trees and shrubs against weather, harmful bugs, and disease. Let us help improve the health of trees and shrubs to keep them looking their best.
Spring Dormant Oil – Kills winter insects on the surface and bark of trees and shrubs.
Spring Fertilization – An injection of fertilizer 6 inches into the plant's dripline.
Insect & Disease Control – An injection of fertilizer 6 inches into the plant's dripline.
Fall Fertilization – An injection of fertilizer 6 inches into the plant's dripline.
Fall Dormant Oil – Helps protect your trees and shrubs against harmful winter insects.
Why Choose Lawn Pride? No One Knows Greenwood Lawn Care Better Than Lawn Pride!
We have been delivering the best-formulated lawn care program for Greenwood Indiana since 1983. Our extensive knowledge of soil, grasses, insects, and weeds in your yard is how we are able to make your lawn healthy and beautiful.
Unlike other national lawn care companies. Lawn Pride exclusively services Central Indiana lawns. This allows us to customize our applications easily for the specific need of lawns in Central Indiana. Take the guesswork out of caring for your lawn and rely on our regional knowledge and experience to get the job done!
We don't just work hard for your lawn; we work hard for you. Our profound commitment to customer service means that your questions, concerns, and needs are met with respect and appreciation.
See What Our Customers Have To Say
---
Contact Us
North: 317-251-6800
South: 317-882-3200
Toll-Free: 877-963-3200
7740 Johnson Road, Indianapolis, IN 46250
Cities We Serve: Indianapolis, Fishers, Noblesville, Greenwood, Carmel, Westfield, and more…
---
Common Questions From Your Neighbors
When is the best time to seed my lawn and what see do you recommend?
We recommend aerating and seeding in the fall. Weeds naturally start to die off in the fall as the temperature starts to cool. This means that your new seed won't have to fight for room to grow against as many weeds as it would if you seeded in the spring (when weeds are at the peak of the growing season). As for seed, Turf Type Tall Fescue is the best seed for lawns in the Greenwood area. This seed has a root system that grows deeper making it more drought and disease tolerant. Check out our Seasonal Turf Tips.
How short should I mow my grass?
The ideal mowing height for lawns in Central Indiana is 3.5 to 4 inches. Make sure to mow frequently to ensure no more than one-third of the total grass blade is removed at one time. For more mowing recommendation, check out our Mowing Turf Tips.
Moles are damaging my lawn but had a grub control application. Shouldn't that have gotten rid of them?
Moles will eat grub worms. However, their main source of food is the earthworm. Grub control will protect your lawn from damage caused by grubs themselves but not moles. Mole bait is a very effective way to get rid of moles that are in your lawn.
---
Cities We Serve
Rooted in Central Indiana, we tailor our services for:
---